Joshua Tay aka Joshua Solomons
Director and Founder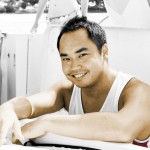 Joshua never sits still and is ever learning. He likes to challenge himself with new skills and knowledge and is the brains and backbone behind The WOW Experience. His love and passion for outdoor sports and the "everything can be done and is possible" attitude drives him from places to places. He used to believe that Singapore is a boring place (just like many of us do) however, he tries to make a difference by bringing in and even creating new outdoor sports that were not available in Singapore. Joshua is also a seasoned traveler that you can see him being very chill and relaxed, without his bag packed at all, even when it's an hour away for check-in to his flight. In fact, that's if you see him at all cos he's so much an avid traveler that his home country, Singapore, has almost became a transit place for his travels. What he claims is that, "I just come home to wash my laundry, pack a new bag, ensure that the company is in order and …" Zoom! He's off again…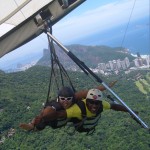 Being a hard-core diver, he goes around the world (especially absurd and untouched places) to dive and appreciate the cultures and the simple lifestyle out there. He never like crowds and always avoid big cities. However it's often through the serenity of countrysides, the simplicity of small suburb towns and the back to basic – getting back in touch with Mother Nature kind of thing, that he gets his inspirations, creativeness and ever fresh flowing ideas on how to move the business. Thus creating more hype and synergy within the company. When asked how does he manage and toggle his business and his travels, he replied, "I'm blessed to have a very capable team put around me, they are so fantastic that I can operate remotely. As long as I have internet access anyway, the business is being attended to".  
Jason Leo Carroll
Operations Manager
Heading up our team on the ground is Jason, who oversees all operations and manpower under The WOW Experience umbrella. He won over the team by somehow reconciling good looks and a love of the great outdoors with life as a motivational team building facilitator. Despite this, Jason is not only a real person, but he also does a great job of keeping activities of The WOW Experience running smooth as a baby's bottom.
"The WOW Experience has been a major highlight in my journey so far. It's rewarding, fun and it's a close knitted family and that's important. It's a 'I got your back' kinda company, which is something you don't see in most companies whether big or small. There is a clear definition between work and play and so does the ever changing environment and that plays a great challenge which I've learned to leverage on. What makes this experience the most rewarding is delivering changes to our clients through our unique teambuilding programs and seeing the smiles on our clients that we've done one hell of a job and they're coming back for more." Make the most out of anything and everything!"
Chong Wenhan
Operations & Consultant 
Wen Han handles the One Dynamics Team Building subsidiary of The WOW Experience. If you ever visit us you can't help spotting Wen Han whizzing through the office like a busy bee. Apart from also being our resident chef and barista, Wen Han has recently and regularly completes triathlons. We don't know where he gets his energy, but we calculate that he could power all our electronic essentials for two days in an emergency.
Grace Lee
Designer & Operations
Product innovator, Designer and Jedi Master, Grace brings her multiple talents along with some epic trance beats to The WOW Experience design team. An avid gamer at heart, Grace takes charge of the ZOVB Singapore portfolio, and listens to bands that don't even exist yet. When she's not taming pixels, you'll find her in the gym or wakeboarding with the spirit of the wind across East Coast Beach.
Jericho Tan
Operations
Jericho muscles up as the Operations Supervisor at Combat Skirmish LIVE with a passion for shooting hoops and scoring beautiful, unforgettable laser tag experiences for every customer. Based in Fort Siloso, Jericho is quite the workaholic, and has built up quite a customer fan base through his fast and comprehensive help. Some say he is even able to answer questions even before they are actually asked. The truth is out there.
Julian Tan
Marketing & Operations
A nature enthusiast and self professed foodie, newcomer Julian joins the ranks of The WOW Experience as a novice marketing musketeer. Armed with but theories and textbooks, he has aspirations to develop marketing ideas that will someday reach beyond the fluffy clouds. Thanks to a previous role, his knowledge of The Wow Experience is exceeded only by his knowledge of toilet industry secrets. When he isn't boasting of his mythical karaoke techniques, you can probably find him jumping off waterfalls.